April.24th,2020 Jingzhou first Fixed Asset Investment Project in 2020
Views:19 Author:Site Editor Publish Time: 2020-05-26 Origin:Site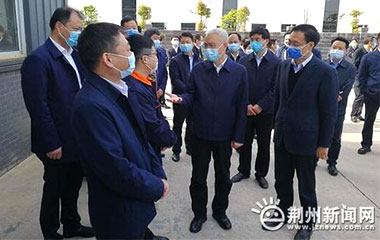 On Apr.24th, Jingzhou City started its first Fixed Asset Investment Project in 2020.
Jingzhou Shunhui Auto Parts Co.,Ltd is the third stop of this activity. Our company was established in 2010 and devoted itself to produce and develop suspension & steering parts for Japanese, Korean, European, American and Chinese cars. And currently we have 8680 products; we can meet customers' different needs of brands, models and years.
Our new factory was located in Jingzhou Jiuyang Industrial Zone. It occupied 33,000 square meters and invested 220 million RMB. The project consist 2 stages.
The first stage invested 120 million RMB, and already finished and started production from Jan.2019. It covers about 18,000 square meters, includes new plant, new office building, and more than 150 sets of new production equipments.
The second stage invested 100 million RMB, and already started build from Apr.2020.
After all finished, the total plant area will cover more than 25,000 square meters. And can provide more than 200 jobs. And annual sales can reach 150 million RMB.
During this activity, the government shows their deep concern and encouragement to us. We can see the support and attention from the Chinese government to the Chinese Entity Enterprise. It gives us strong confidence and we are sure we can give a better future under the Government's support.